Aliases of Mary
The history of the temples and their miraculous images, local traditions and customs, and the desire of each site to gain his own Panagia own separate entity gave hundreds of wonderful names in Virgin our country….
Notre Portaitissa – Our Lady of intensive
The face of the Virgin but to the Greeks and has national importance, It has been linked with the struggles of the nation and so the Greek people to honor and respect, more than any other holy person, for this and has dedicated many aliases.
The name of the Virgin Mary, the holiest person of Orthodoxy, accompanied by a large number of nicknames given to her. They exceed 1747 the adjectives attributed to the Virgin Mary. Every researcher still thinks that he has completed the list and something new and unknown until now emerges.
To the Greek people the name Panagia (nickname from the 3rd century as the holiest of all the saints), has been established as the most common invocation of the Virgin Mary, which is often combined with other nicknames to the Delighted Queen of the World.
So much is love, fertile thinking and ingenuity, not only of artists and scholars, but also of the ordinary faithful people, which constantly gives birth to new adjectives in Panagia, which can be divided into eight categories.
From the representation of the Virgin Mary in the image:

Such adjectives are Infant, the Glycophilous, the Milk Breeder, the Wider of the Heavens, the Hodegetria, Right-wing or Right, Bigger. There are also names associated with a sacred story, such as the names that exist on Mount Athos, B.C. "Axion Estin", Triherousa, the Slaughtered, the Shot, Portaitissa and others.

From Her place:

This is how Panagia Athiniotissa exists, Kastriotissa, Pyrgiani, the Spiliani, the Megalospilaiotissa, the Seafood, Kalamou, the Kaminiotissa, the Olympian, the Soumeliotissa, Plataniotissa, Katapoliani, the Trooditissa, of Kampos and others.

From the style of Her temple:

Such adjectives are Tholoskepasti, the Lead-covered, chiseled, Kremasti, Marmariotissa.

From the name of the owner of Her temple or monastery:

Such adjectives are Panagia Pacheia, the Sweetness, Perlingou, Lykodimou, Korovilia.

From the month that the Virgin Mary is celebrated:

douse, Augustan, fifteen, Tritiani, Mesosporitissa.

From the miracles of the Virgin Mary:

Gorgoupikoos, Eleousa, Eleistria, Giatrissa, Treatment, Health, Psychosostra, Fairy tales, Parigoritria, Pafsolypi, Faneromeni, Myrovlytissa.

Praiseworthy from the outburst of love of the faithful.

Usually an adjective is used with gold as the first synthetic: Chrysokellaria, Chrysospiliotissa, Chryssopigi, Chrysogalousa, Chrysopodaritissas, Gold hand. But there are others, such as Angeloktisti, airy, Anafonitria, Visit, Pantanassa, Trani, Chiliarmenitissa.

What the hymn writers of the Church gave Her.

They mainly come from the Standing Hymn: Unpolluted, Ypsilotera, Seat, Scale, Roof, Prayer, Visit, Recourse, full of grace, Country Uncontainable, Mount Alatomiton.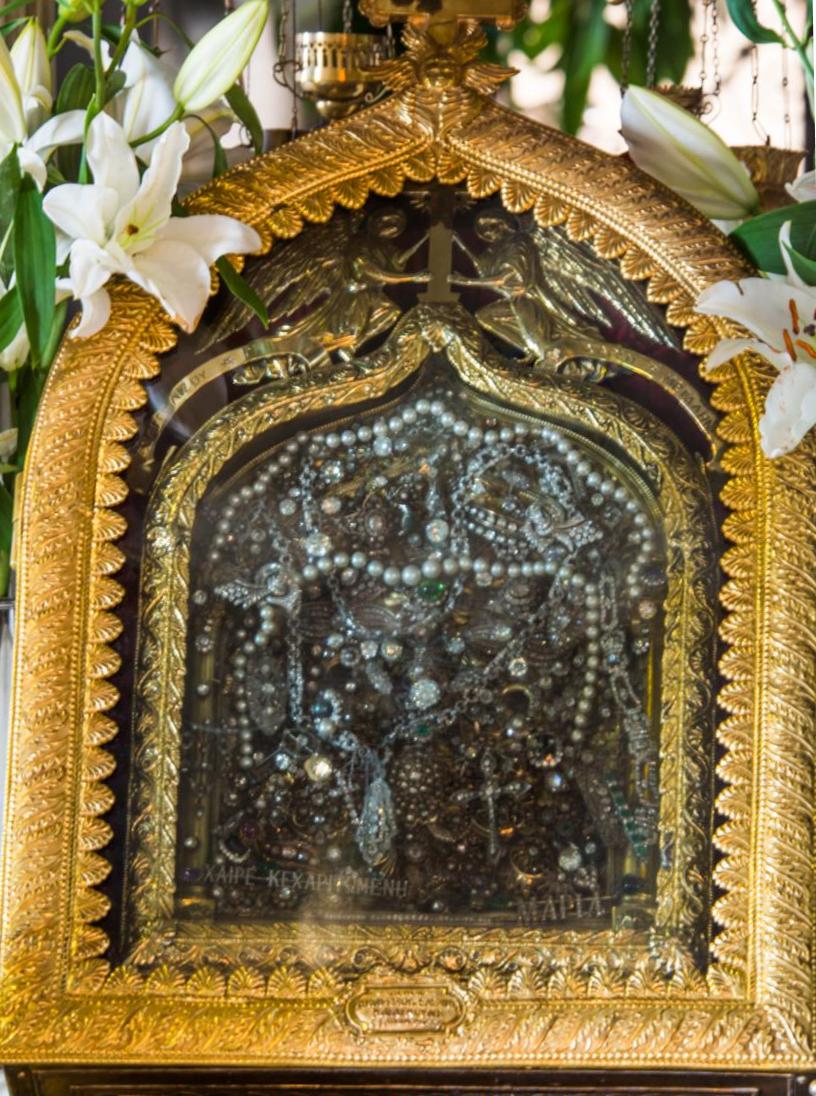 Lady Tinos
the 1620 aliases of the Virgin….
A (229)
abyss mercy, Agathon (Fthiotida), Unmarried, Love or loving (Cyprus), Angeloktistos (Kittio, Cyprus), angels (Athena, Crete etc.), St. (Man's), Holy saints more, Agia Zoni, Ayia Napa (Cyprus), Holy Zion (Lesvos), Holy Protection (Kon / town), Holy Obedience (Paros), Agiassos or Agiasottissa (Agiassos, Lesvos), Agiogalousa or Agiogalousena (Chios), Agiodektini (Chios), Agioiliotissa (Samos), Mount Athos (Mount Athos), Agiosoritissa (Kon / town), holiest, Agisiliotissa, Agkathiotissa (Cyprus), Agkarathiotissa or Agarathos (HERACLION, Crete), Agkinariotissa (Chios), Anchor, Aglaisma mothers, Unused Eos, Agnes, Agoritsa (Marble), Agrelopou or Agrelopousaina (Chios), Agridiotissa (Chios), Agrilia (Santorini), Agriliotissa (Kefalonia), Agriniotissa (Agrinio), Agros (Kon / town) , Agrypniotissa (Blonde), Adamic, impassable sea, Adiodotos Gate, Aeimakaristos, Aeimesitefousa, ever virgin, perpetual Fountain, airy, Invincible, Athinaiotissa or Athiniotissa (Athena), Aiani, Aegean, Egyptian, blood (Paphos, Cyprus), Aimialou or Aimialon (Dimitsana), Aineti, Airkotissa, cause goods, Aitolikou (Aetoliko), Akadimiotissa, Akathi (the Akathist Hymn, Schinoussa), Standing, The Standing-Up Hymne, Indomitable, Akataischyntos, Irresistible, overmastering, Akataflekti, Akirasi, Akiratos fytoforos, Akiratos, Akleidiou (Lesvos), Hearing, Sleepless, Cape of good hope, Akrotiriani (Crete), Beam invisible sun, Alaniotissa (Smyrna), virtues salt, Alatsateans (M. Asia), poinsettias, Alexios Komninos, Real (Symi), Alepini, flour (Mykonos), Real, Alinda, Aliniotissa (Cyprus), Alloiotissa, Alochefti puerperium, Aloha, Amatitsi (Cyprus), Amalfiton, sinners Warranty, sinners Salvation (Agia Lavra), Amasgous (Cyprus), Amasti, Amatitsi, Blameless, immovable Elpis, Alypa (Bithynia), Asbestos, Amira (Cyprus), sands (Sifnos), Amoliani, Unpolluted (Sifnos), Amouri, Ampelakion (Ampelakia), vineyard theogeorgito, Ampelakiotissa (Nafpaktos), vines (Paphos, Cyprus), Ampelokipissa (Lidoriki), Vine, Ewe, Immaculate, Immaculate, Renaissance, Anairetis Aras, Summary Graces, Ascension, Sinless, Anapliotissa (Nafplio), Anassa, Anafonitria (Zante), Reel (Samothrace), Anirotos country, Flower in Amaranton (Kastellorizo), flower indestructibility, Flower Christ vlastisasa, Invincible, Anoiktirion Paradise, Anoiktoportousa, Antivouniotissa (Corfu), Antinitissa, Antifonitrias or Antifonitissa (Mount Athos), Ano Xenia (Magnesia), Anomeritissa (Macedonia), Axiomakaristos, Axion Esti (Karyes, Mount Athos), Apeirathitissa (Naxos), Apeirandros, Apeirogamos, Apeirokaki, Apekois (Kalymnos), Unbelievers doubt heard, Apokouis (Symi), Apololoton, Austr (Patmos), Apolpena (Lefkada), Impregnable wall Basel, Apoutigie Apoui (Palestine), Inaccessible, Arakiotissa or peas (Cyprus), Arapissa (Triglia, Thrace), Arvanitissa (Chios), Arvanites (Samos), Arginonta (Kalymnos), Argokoiliotissas (Naxos), Argyrokastritissa (Gjirokastra), Aryan, Ardennes (Albania), Areovindou (Kon / town), virtue picture, left arm, Arkas (Cyprus), Arkoudiotissa the Bear or Bear or Arkoudaina (Akrotiri Chania), armada (Spetses), flo (Kon / town), Armeniotissa (Armenian Larissa), Armenokratousa (Serres), Deny any evil, Rat vegetative, Rat mercies euphoria, ineffable wisdom, arsanas, Arsos, Artakis (Artaki), bread of life, Archangeliotissa (Blonde), Ancient, salvation leader, Archisporitissa, Major General, Lady, perfumery, Asen, unappeased mouth, song of angels, song of songs, song triserasmio, kissing above, Spotless, seedless Vlastisis, ASPRAGGELI, Asprovouniotissa (Cyprus), Aspropanagia (Cyprus), Aspropotamos, Asproforousa (Cyprus), Astathkiotissa (Cyprus), star, Astron adyton, incomparable, Incomparable, Ataleiotissa (Chios), Avgasida (Cyprus), Dawn, Augustan, Groove, Avlin, femdom, Afthoros, nonflammable Vatos, Aphroditissa (Cyprus), Acharnon (Athena), Achimastos bay, Acheiropoiitos (Mykonos,Thessaloniki and Istanbul / town), Achera, Achivadena, Blessed, Apsilocherousa, Apsidiotissa or Apsinthiotissa or Apsinthkiotissa (Cyprus), Apsiou (Cyprus).
B (89)
Virgin Mary (Mykonos), deep, Bacteria, acorn (Cyprus), Valoukliotissa (Kon / town), Vaniotissa, Varangiotissa, Vardianiotissa, boat (Ilia and Ithaca), Varnakova (Fokida), Reign, Vasiligeneteira, Queen, Queen of heaven and earth (Resource), Queen mother, Vatopedi (Mount Athos), Bramble, Vatousaina (fisherman), certain Elpis (Kon / town), Oak tree, Velestinou (Velestino), Vella or Vellaitissa (Janina), Optimal, Vergi, Vergoupouliani (Crete), Vithleemitissa (Jerusalem), Vimatarissa (Mount Athos), Bible God, Vigliotissa (Crete), Vidiano, Virgiomeni, Viofelis, Vladimirskagia (Russia), Vlasarou and sprout (Athena), Vlachairena (Corfu), Vlacharnea, Vlacherna, Blachernitissa or Vlachernon (Kon / town), Vlacheronitissa (Crete), Vlachiorina (Arta), see, Vlefariotissa (Astypalaia), Vlysasa life water, Vlychiorika, Aid (Patras), Help, helped, Volia sanctuary shine, Hilarion (Russia), Voreiatissa (Kefalonia), north (Cyprus), Vouthynon (Kalymnos), Voulaniotissa, Voulgareli (Lixouri), Parliament, Voulisma (Tinos), Voulkaniotissa or Voulkanos (Messinia), Vounariotissa (Symi), Vounarkotissa (Cyprus), Vounassa (Continent), Vouniotissa, Vounogiatrissa, mountain (Sifnos and Romania), Vourliotissa (Philadelphia and M. Asia), Vourniotissa (Tinos), Vourgara (Man's), Voutsas, Prize, rock (Nemea), Vresthenitissa (Vresthena), baby nurse (Man's), and Child (Mount Athos), Vrefourgisasa, douse, Vrisanis (Man's), Thunders or Vrontiani (Samos), Vrontiotissa (Skiathos), Vrontou (Mantoudi Evia), Vrontochion (Mystras), rain, Vrioulon (M. Asia), Vryseos (Arta and Sifnos), Vrissiani (Karpathos), Vytouma (Meteora).
C (85)
Gaimatousa (Cyprus), Galaktini, Dairy (Bethlehem), Galaktotrophousa, Galani, blue (Zante), galactic, Galatarkiotissa (Cyprus), Galatini or Galatiani (Kalymnos), Gaul (Rhodes), Galachtotrofia, Galachtoforousa, Serenity (Crete), Serene, Serenissima, French (Man's), gobbler (Rethymno), Galouchiotissa, Gardelaki (Ithaca), Genath (Iberia), Genatou (Cyprus), Nativity Mary Savathianon, chargeable, birth, born of noble, born God, crane (Patmos), Gera salvation, Gerontissa (Mount Athos), Gesthimanitissa, Bridge, Georganiki (of Mavromichali), Promised Land, Land of praon, Githosynos, Ginatou, Girokomitissa (Patras), Giromeri (Thesprotia), Yialousa, Giatrissa (Loutraki and Laconia), Giormotsanissa (Lampeia), Gkavi, Gkechrioniotissa (Lixouri), Gkizilkiziotissa (Sokya), Gkiormiotissa, Gouverniotissa (HERACLION, Crete), Gkoumpelidiki (Kastoria), Goura (Trikala), Gkremniotissa (Virus), Glastriani, Sugaring Angels, sweet (Chios), Glykiotissa, Glykogalousa (Rhodes and Santorini), Glykokymatousa, Glikofilousa (Holy score and Lesvos), Glykyderkis, Glykythymos, sweet, Glyfadiotissa (Samos), Language (Cyprus), Mermaid (Lesbos Skala Skamnias), Gorgoupikoos (Mount Athos, Attica, Veria), Goudi (Athena), Goumenissa (Goumenissa), Goumero (Trabzon and Serres), Gouniotissa, fur, Gourlomata (Smudgy), Gourna (M. Asia), Grava (Country, Patmos), Granitsa (Evritania), Grafiotissa (Pserimos), Gria Panagia (Mykonos), Grigoritsa (Cyzicus), Fast, Grigorousa (Athena), lath (fisherman), Griliotissa (Kefalonia), sinless woman, Woman, Gypseni (Rhodes), Corner.
D (64)
Davitiki, torch, Dadiotissa, Daimonokathairetis, Dakryvrechtos, Dakryoanairetis, Dakryrooussa, Damalin, tamable, Damasta (Fthiotida), Damiotissa (Naxos), Forestry, David, Dedoxasmeni, Prayer, cowardly sin, fifteen (Sifnos), Demerliotissa (Farsala), Demirli, Demir Kapien (Sinai), tree aglaokarpon, tree (Romania), Dexa, Right Dexiokratousa (Thes / ki), praying, Skins or skin (Zante), matron (Icaria), second, Dimakelon, Dimokraneia (Thrace), Dimosiana (Corfu), Demochares, Diadem, Diazosousa (Patmos), moving (Cyprus), deaconess (Kon / town), Deacon maximum Mystery, deacons, Permanent protection (Crete), rescues (Patmos), diene (Rhodes), Dikaiokritos, Dikaiotati, Dimiovitissa (Messinia), double (Cyprus), Diotissa (Cephalonia), Dovras (Imathia), Domandriou (Lesvos), Domiamitissa (Evritania), Domianitissa or Domnianitissa (Evritania), Doxarissa, Doteira freedom, Douvergaina (Athena), Doupiani (Meteora), Docheiarissa (Mount Athos), Container wisdom God, container joy, Drapaniotissa or Drepaniotissa (Cephalonia), Drosiani (Naxos), Drosostalitissa, Dyochousaina (fisherman).
E (87)
Evros (Evros), Surety, Surety of Sinners, Egkleistriani, Eikonistria (Skiathos), Eikosifoinissa (Pangaion Hills), Eikospentarousa (Samothrace), Presentation, Eisodiotissa (Ilia Aegio), Entrance, elected, Ekatontapyliani or Ekatopyliani (Paros), Ekklisiarchissa (Mount Athos), ecclesiarch, fine, Olive (Symi), Elaiovrytis or Elaiovrytissa (Mount Athos), oil, Malleable, Elegmon, Eleimonitria, Gracious, Eleistria, mercy, Eleousa (Agrinio and Cyprus), freedom (Patmos), Eleftherotria (Salamis), Advent, Eligmotissa, Hope, hopeful, hope (Kon / town), desperate hope, Elpis Faithful, Hope of the world, States (Kinouria Arkadia), Emporio (Kasos), living creature Bank, animate temple, Habitat, most glorious, Inlaid Fund of, inlaid, enthroned, Enousa to heaven, Exakousti (Ierapetra), Exapterou (Thrace), Country, country (Nisyros), outside Panagia (Imathia), Epakouousa, Epanokastritissa, Epanochoriani, went through, Joy be on Thee (Amorgos), souls desire, Epicurus, Visit (Nisyros), Episcopalian, Heavenly, Heavenly gate, Eptavimatousa, Erasmiotati, basis of faith, hermitage (Patmos), Erythiani (Chios), slain (Mount Athos), Evangelistra and Annunciation (Tinos), Noble, Evdokia mortals, Evergetis, Luxuriant, Efthriani, blessed, Blessed, Evouraniotissa, Efpais, Evreti, Merciful, specious, Effimianos, Efchos all blessed, Spirited Christ Paper, fragrant flower, fragrant prairie.
Z (30)
Zathei, Zalakiotissa, ZEIDORON source, Zerachiotissa, Zervati (B. Continent), Zerichiotissa, Zermpitsis (Laconia), Zeron, Zefyrios breeze, common knowledge seeker, Zidaniotissa (Mikrovalto Kozani), Zindgigli (Symi), Zyli, Zoarkeia, Zoarchiki, Zoe, Zoirrytos, life-giving, Zone, Zoodoteira, Zoodotis, life-giving, Life giving, Zoodochos source (Continent), life-giving bank, Zoopigi (Cyprus), vitalize, Zooporos, Viviparous, Living and abundant source.
OR (13)
Igitria, Abbot, already done, Idypnous, Iitheos, Iikosmos, Iliokallos (Salamis Cyprus), Iliomorfos, Iliostalaktos Throne, Iliotokos, tractable, Demigod, Mild.
Th (60)
sea (Man's), Thalassistra (milo), naval, Thalassomachissa, Thalassomachousa, Thareini, Thealechti, Aunt, divine force, Thematisiana (Kefalonia), Theogennitor, Theogennitria (Lasithi),Theognosia, Theodidachti, Theodoxasti, Theodromos star, Godlike, Theokliti, Theokosmiti, Theokyitor, Theoliptos, Theomakaristi, Theomana, Theomitroprepestera, Mother of God, Theonymfi, Theopaida, Theoskepasti (Cyprus Andros), Theostrefis, Theotimiti, Theotokas (Amorgos), Theotokissas (Tilos), Mother of God, God holy, God vessel, Theurgy, Theurgist, Theofanis (Kea), Theofron, Theophrastus, Theofron, Theocharitoton, Treatment, Therapeiotissa (Kon / town), Thermiani, sublime, Thefagestati, Thimiani (Crete), Treasure, domed, Thomvos Scotland, wail, plaintive (Nisyros), Thrylidiotissa (Nicosia), Incense, thurible, mercy port, door, Throne, Thomiani.
I (24)
remedy, healing (Iberians Cyprus), healing, Iatir people, Physician, Ieromystis, holly, Ierovlastos, Ieromytis, Ierosolymitiki (Jerusalem), Jerusalem (Jerusalem), Jesse (Samos), Ikeroessa, Supplication lost (Russia), Iketiria, Ilarotati, atonement soul, mercy seat, Propitious, Imeroessa, fly, isigoria, Israilitis (Israel), strong.
K (231)
Kavouradena or Kavouriani (Smudgy), Kagakarkas (Patmos), Kaya (Bursa), Kagiampasiou, Kazan (Russia), Kathairesis death, Kathariotissa, clean (Ithaca), Katharotati heart, Seat, Seat King, Catholic, Mirror, burning bush, Kaisariani (Rhodes), Kakaviotissa (Limnos), Kakoperatiani or Kakoperato (Marathokampos), Kalavrezou (Kefalonia), basket, Kalamiotissa (Anafi), Kalamou (Blonde), Kale (Ierapetra), good, Kaliarmenissa (Samos), Kaligou, Callinicos, Kallitokos, Kalogiriani (Trikala), Kalopetra (Rhodes), Kalorrittissa, good, good Water, Kaliviani (Heraklion), Camacari, Kamariano or Kamariotissa (Samothrace), Kamateros, burned (Halki), Kaminiotissa, Kammariani (N. Bodrum), Kamouchareas, Kampadena (Lesvos), Kampanariotissa, Campione, Kampiotissa or Campos (Symi), Kanakaria, Kanala (Kythnos), channel, Kandila (Kythnos), corbel, Kantara or Kantariotissa (Skiathos), Kapetagiotissa, Kapnikaraia (Athena), Kapolas, Kapraina, Karakonisaia (Chaironeia), Karvitzin, Kardiani (Tinos), Kardiovastazousa (Mytilene), Kardioforitissa (Ganochora), Kardiotissa, fruit laws, fruition, Karya, Karyonitissa (Rhodes), Karypi, Kasos (Kasos), Cassiopeia and Cassiopeia (Corfu), Kastaliotissa (Kastellorizo), Chestnut, Kastanologlou, Kastelliotissa (Cyprus), Kastriani or Kastrianon (Kos), Kastriotissa, castle, Kastroulerou, Katakarpos, Katakarpos olive, Katakekrymmeni (Slow), Kataklisseotissa, Catalan (milo), Cessation, Katapoliani, Katastari, Katasyrtis (Man's), Recourse (Zante and Crete), shelter, Katafygiotissa, Katevati (Kos), Katefodotra, Katefiani, Katopoliani (Amorgos), Katsikada (Kyparissia), Katopyliani, pride apostolic, Kafatiani, Burnt (Peloponnese and Amorgos), Kapsocherovolousa (Messinia), cell, Kera (Lasithi), Keraflidena, Keriotissa (Zante), Kirk, Kernitsa (Arcadia), Keropolitissa, Kefalariotissa, Kefallinos, Kecharismeni God, full of grace, Kechria (Skiathos), Kechriniotissa, Guardian, Garden, garden (milo), Kipouraion, Kipouriotissa, Ark, holy ark, Noah virtues, Kirmonzi, kirtan, Kissiotissa, Kiti, Klafthmonos, Key of Heaven, Cleo reign, Musty or Kleisourgion, closed (Agrigento), Glory, Kleftopanagia, Call, Scale, Bed, Klota, cemeteries, red, Kolokythiotissa, Kolyviani, baptismal life, Arena, Daughter, daughter lactation, Korkodeilia, Korovilia, Koroniotissa, Peak, Koryfini, Korfiatissa, Korfyni, crown, Koronatou, sifter (Chios), Kosmopothitos, Kosmosotira (Feres Evros), Kossinassis (astride), Kosyfoinissa, Kotsika, Kouverniotissa, Kouvoukliotissa, Koudouri, Koukouzelissa, Koukoumitriotissa (Imathia), Koulouri, Koumandos (Patmos), Koumariotissa (Neochori), Kumara (Mykonos), Koumniou, Koumoulos, Koumbelidiki (Kastoria), Kounistra or Kounistra (Skiathos), Kounopiotissa, Kouratoros, Curium, Kournas, Kourotrophos, Koursouniotissa, Kourtali, Kousouliotissa, headbutt, stump, Kofinou, deaf (Samothrace), Stone deaf, basket, Corner (Sifnos), snail, statists, State, hanging (Ilia, Rhodes), Krimniotissa, fountain, Fountain, fountain aeirrous, Kritikia (Monemvasia), lily, Krommydiotissa, cock graces, Kroustallenia, Crypt, concealed, Ktitorissa (Mount Athos), mason, Kyisasa maker of, Kykkos, Kykkos, chased (Amorgos), Kinosargous, gestation joy, Kypaiotissa, Kyparissiotissa (Megara), Kira Xeni, Kyra Politissa (Heraklion Crete), Kira Faneromeni, Kyra Hosti (Kalymnos), Lady Tall (Kalymnos), Kyra (Smudgy), Lady, lady panchrysi, Lady of the Angels, Lady of Tears, Kyriotokos, Cyrus (Kon / town), Komi.
L. (77)
pinchers, Langadiotissa, Lagkovarda, Lagoudiani (Thessalonica), Lakkoskitiotissa (Mount Athos), Lamiotissa (Kefalonia), Lampadis god, Lampas, lamp (Pelion), Lambini (Rethymno), Labovic (Corfu), Lampovitissa (Continent), Lamprafgestati, brilliant, LAMPRINI, brightest, Brilliance, Lamproforia, lamp, Laodigitria, people, Laoutsanissa (Euboea), Laocharis, Larniotissa (Karpathos), Latomitissa, Lavra, Lafretou, Lafriotissa, lottery ticket (Patmos), Leivadiotissa (Chios), boats, Lemonitra (Tinos and Mykonos), Lemonitissa, Lesiniotissa, Letsona (Chios), Lemonitissa (Symi), Lemonitra (Tinos,Mykonos), Lepavinskagia (Croatian), Lefkousia, Lefaina, Lechousa (Serres), Lemnos (Icaria), Livadiotissa (Patmos), Lithiniotissa or Lithinon (Lithines Sitia), Limeniotissa (Cyprus), Port, Limin souls, lake (Smudgy), Limnia (Skiathos), Limniotissa (Mykonos), Linovrochia (Ithaca), Llosa (Zante), Lihada, Lobe (Kon / town), Logovarda, Loimiotissa, Louvara (Rhodes), Louviaritissa or Louviaritsa (Rhodes), Louloudiani (Heraklion), Louma, Loutriotissa, Lydda, Lykodimou (Paros), Lykotrichi, Lykouressis, Lympiani (Skyros), sad, plaintive, curse solution, ineffective, Redemption, Redeemer, Lamp, venerable lamp, Loion, Lolos Panagia (Man's).
M (132)
Magaziotissa, mangle (Kefalonia), Magdalene, Madytos, blessed, Makariotissa, Nafi (Skopelos and Cyprus), Makelaaria or Makelaritissa (Achaia), Makri (Makri Evrou), Makrinitissa, Makrymalli (Psachna Evia), distant (Samos), Malamatenia, Malevi (Arcadia), Malik, Maltesa, Mother, Mandalaki, Mandalas (Tinos), Manedi, Manna, Manna of boys (Cyprus), handkerchief, Manolitissa, Marathounta (Symi), Mardakis, Mary, Mariam, Marinakis, Marmariotissa (Halandri), Maroulis, Martsaliani, Witness, breast, Mataragas (Mataraga), Matarie (Halandri), black (Smudgy), Mavriotissa, Mavroyiannis (Icaria), Black head, Mafrommata (Sokya), Mafromolitissa (Traffic light), Mafrotissa (Kastoria), Knife (Cyprus), stabbed, Machairotissa, With lilies, Sublime, great, great Panagia (Patmos, Mykonos, Crete, Samarina Grevena etc.), Megalogenous, Martyr, Megalommata or Megalommatousa (Pelion and Megalopolis), Megalospilaiotissa (Kalavryta), Blessed virgin (Cyclades), Maximum, Melathrotissa (Man's), Melandryna (Cyprus), soft-boiled (Arta), Brunette (Madytos), Melikari (Skyros), mellifluence, Bees, Melody, Merdiotissa, Mertiotissa (Ilioupoli Athens), Mesampelitissa or Mesampeliotissa, Mesitis, Intercessor, Intercessor for Christians, Mesopantitissa (Crete), Mesopontissa (Meteora), Mesosporitissa, Mesochoreitissa (Corfu), Messampelitissa, apple tree, Miliotissa (Milia - Aridaia - Pella) Fragrant apple, Mother, mother everlasting, Mother of God, Mother of God on the throne, mother of wisdom, Mother of Life, Mother of the Faithful, mother of Christ, Mitrotheos, Mitroparthenos, Metropolitan, Michanionas (Thes / ki), Miasinon, small, Mikrokastrou (Siatista), Misitiki (Cyprus), Misosporitissa (Crete), Misochoriani (Skyros), Molyvdoskepasti or Molyvdoskepastos (Konitsa), Monarchs, Monastiraki, Nun (Sifnos), holy Monastery, Only god tekousa, only begotten, Monomeritissa (landlocked Attica), Morgonisi, Moschovitissa (Moscow) , Mousena, Moustapidaina (Attica), Moutsena (Chios), Mouchliotissa, Balis (Sifnos), Ballina (Kon / town), Baloukliotissa, buffer (Stemnitsa), Boria (Korce), Boskou, Bryoni, Myripnoos, Myrionymos, Myrovlytissa (Mount Athos), Myrolaiotissa (Salamis), myrrh, Myrsiniotissa (Lesvos), Myrteni (Rhodes), Myrtidiotissa (Cythera), Mirtiotissa (Kalymnos), mystery, Mystis divine boule, Myfelaiotissa.
N (42)
Nazirea, Temple, Napa (Cyprus), Nassos, Nafpaktiotissa (Nafpaktos), Nafpliotissa (Rhodes), Nafs submersibles, news, Nea Moni (Crete), new Lady (Thessalonica), chaste maid, Negro, Youth, Neourgos, Neofaneisa (Salamis), Neratziotissa (Disable), waterbearers (Cyprus), Nerochionitissa (dry dock), Nefrokopiotissa (Delchev), Cloud, cloud light, Nidymos, Niocharis, Niamonitissa (Chios), victory, Nikitatou, Nikitianou, Nikiforos, Nikopoios (Kon / town), Mentally, Noicharis, homecoming, munity (Man's), mind effulgent, Dinan (Euboea), Ntolianni (Kastoria), Ntoloroza (Zante), Ntouvariotissa (Smyrna), Nymph, nymph anymfeftos, Nymfostolos, Nymfotokos.
X (23)
Blonde, Xarfaniotissa, Guide, Foreign, foreign ark, Xenia (Magnesia Volos), Xenios, Xenovlitis, Xenopoulou, foreign (Crete and the Ionian Islands), Guest house, Xesklavostra, Xesporitissa, Xirokampitissa (Etoloakarnania and Arcadia), Xiropigadiotissa, Xiroreitissa, Xidou, Xisotissa, Xoanokatalytis, Xylliptor, Xylokerissa, tree of life, Xynetiki, Xynigoros.
THE (41)
Hodegetria (Kon / town, Mount Athos Mystras), Street life, Oikeiotati, most holy house, Housewife, Oikonomissa (Mount Athos), Economou, Merciful, Olviodotis, Olviodoros, Olbia, Olkada, Olympiotissa (Olympus), OMMA anystachton, Omotheos, Omplitissa or Omblos (Patras), acute perception, concord, Orthokostas, Matins genius, Ormachos, Ormiliotissa, Term, Mount Alatomiton, orphaned, Orphanotrophos (Larissa), orphan assistant, Osia, Osiotati, fragrance odor, Ostrompramska, Heavens, Heaven, Heaven and Earth, Ouranofora, heavens, Ourvikiou, Ofidiotissa, most holy vehicle, stronghold, Fortification.
P (151)
Pangaiotissa (Paggaio Macedonia), world Playground, Pazargiotissa, passion, Passion (Chios), Paidefsasa, pack, Palaiokastritissa or Paleokastro (Corfu), Palaiologina, Palaiochtisti, Palatiani, Paliopanagia, Paliani (Crete), again, Paliokastrini (Mykonos), Paleokastritsa (Corfu), Paliouri, Paloma, Palourgotissa, Pammakaristos (Kon / town), Pamfiltati, Most merciful, Virgin, Virgin by arrows (Russia), Lady with lilies (Kefalonia), Panagiarios, Holiness, Panagiouda, Panagiochorto, immaculate, Panagoula, Panamomos, Panafthori, Panachrantos and Panachra (Man's, Mykonos), Panthafmastos, Pansevasti, Pansemni, Pansepti, omniscient, Pantanassa (Mystras, Arki and Mount Athos), Panteflogimeni, Panteflogitos, padimate, Pantovasilissa (Rafina), Pantovlepousa (Thassos), Almighty, Padoa, Pantokratorissa, Pandohara, Panton Anassa, Panton hope, everything fine, Panymnitos, Panyperagni, Panyperefsplachni, Papameletiou (Skopelos), Paradise, Prayer, Fairy tales (Mount Athos), Paraportiani (Mykonos), Parigoritissa (Arta), Parigoritria, virginity heirloom, Virgo, Parigoritissa (Arta), Parigoritria, boldness mortals, Pastadan, Pafsolypi (Halki Kon / city), thick, Peiraiotissa, Pelagia (Boeotia), Pelagian, Pelagonitissa (Skopje), hewer, Pepelinitsis, Peponiotissa (Zante), Beyond (Albania), Pergaminiotissa (Cyprus), Pergilou, vested, conspicuousness, dove, Perligkou (Kefalonia), stone, Petraida, Stone or inhabitants as (Lesvos), Pefkovounogiatrissa (Keratea), Pigadiotissa, Pigasasa life, source mercy, Pisotoichiotissa (Heraklion Crete), Slope, plate theografi, Plataniotissa (Kalavryta and Aigio), Platsani, Platytera, Platytera of Heaven, Plimmyriani (Rhodes), Wealth, Pogyristiki (Cyprus), Podigetis, Pocos, city, Politissa (Heraklion Crete), chandelier, Polysporitissa, chandeliers lamp, Ponolytria (Sea), pain, Poreio, Portaitissa (Athos and Astypalaia), Door, Portiani, Portokaleoussa orange (Slow), Potamitissa (Kasos), perfume river, Poulati, Phrae, Praotati, hot Embassy, Ambassadress, Ambassador believers, Proanangelomeni, Prodromitissa, Consul life, propyl, Bastion, common noun, Prosistissa, Protection (Mount Athos), protector, protector, Immigration, Prosfygio, Bursa (Achaia), Proussiotissa (Proussos, Karpenissi), Protothroni, Pylaiissa (Kalamata), Gate, gate dodekateichi, Pyrgiani (Mykonos), Pyrgiotissis (Athena), TAGES tower, Pyrimorfi, a pillar fiery, Pyriotissa, shot (Mount Athos).
P (29)
Stick, PABC, Rapidly, Ragio, Raidiotissa (Janina), Raitho, Rachopidi, kennel indestructibility, Refmatokrateira, Riisti, explicit, Root of Jesse, Rovelista (Arta), Rosary (Tinos), Rodia, pink, Rhodes Amarantos (Piraeus and Mykonos), rosaceous, Roiditissa, Romvi, Roumeli (Central Greece), Rochoniati, Rysikosmos, Rysio, Rystis, Rytirios, a Roman, robust, Rostiki.
S. (78)
Saintnagia, Salamiotissa (Cyprus), Samakiotissa, Sarantaskaliotissa (Marathokampos), Sariza, venerable, venerable boast, Moon, modest, Semnoma, Sentoukiotissa, Sepetiotissa, Septemvriani, Seraphim, Servouniotissa, Silyvriani, flag, Siatista (Siatista), Sidiropetra, Sicily, Sisanio, Staircase, Ladder of Heaven, Skaloti, Skafidia or Skafidiotissa (Ilia), covered (Aigio), Roof, Roof of the world, Scene, Skiniotissa (Kissamos), scepter statists, Skiadeni (Rhodes, image of St. Luke.), Skoiniotissa (milo), Skopiotissa (Zante), SKOULOUDI (Mykonos), Skordyliani (Crete), Skripous (Orchomenos), Soiriza, Sotomvriani, Soudiotissa (Ilia), Sumela or Soumeliotissa (Vermio, Sea) , Sophia, Spaniotissa (Siatista), Spilaiotissa, Spiliani (Nisyros), cave (Karditsa), Spiliotissa (Skyros), pitcher, sheepfold, Crusaders, Stephanas, column light, Adorner, mouth melistages, General, Stratilatissa (Kythnos), Cross (Patmos), Stachyotissa (Cyprus), ratites crystal clear, Allied, synaptic, coherent, Synempastra (Kefalonia), Escort, Syntriani (Kea), debris death, Fellow, constitutive, Sfalantziotissa (Cyprus), salvific (Patmos), body sulfur, House Theodochos, Bodies, Somatosasa god, Soros good, Savior.
T (64)
life Fund, Tameiouchos, Archangels, Wandering, tartanes (Karpenissi), Tatarna or Tatarnotissa (Evritania) , distressed, Wall, Perfect, Telendos (Kalymnos), Telonaria, Mosque, TEXAS light, Teratourgos, Jill, Telauges, Tinos (Tinos), Her Bush, Timalfestati, price only, honest Skepi, Timiotati, more honorable than, Wonderland interest, Toploy (Crete), Tortosis, Tourliani (milo), Tourlomata (Smudgy), Tourloti (Mykonos), Trani, Bank, trauma demons, Trachiada, Tremithiotissa, Trembelas, Trikkeri, Trikosykiotissa, Trikoukkia (Cyprus), Trimartiri (Heraklion, Chania, Mykonos and Skiros), Triselinos, Trissolampis, Tritiani (Santorini), Tertiary, Triherousa (Mount Athos), Trovato, Trooditissa (Cyprus), triumphant, Trulli, Trouliani, Trouloti (Lesvos), Nurse, Turtle dove, slotted (Aigio), affectionate, tenderness, loving, Trochonitissa, Tsambika (Rhodes), Tsestochova (Poland), Tsipiotissa, Tsoukchouon (Kalymnos), Tsykkotissa, Typikarissa (Mount Athos).
computer (29)
Health,Ymnoumeni, angels hymn, Obedience, obedient, obedient, Candlemas (Crete and Kalamata), current (Jerusalem), Yperagathos, Virgin, Yperagiasmeni, Yperamomos, Yperdedoxasmeni, Yperendoxi, blessed, Superior in amongst women, Championing, Yperymnitos, Yperferousa, outgrow, Yperfotos, Ypogeiotissa, regression, Ipseni, high, highest, Ypsikathedros, Highest, elevation.
Phi (49)
Falandra, lanterns, Fanariotissa, Fanerouliotissa, Faneromeni (Salamis, Lefkada, Aigio, Artaki, Lesbos and Cyprus), Fanotati, Pharmakolytria, drug, Lighthouse, Sparingly or Fidiotissa (Kefalonia), Fidottotamiani, Fidousa (Kefalonia), Fidosa, Filagnos, Philanthropist, Filanthropotati, Filerimos (Rhodes), Compassionate, Friend, Philometor, Filotissa (Naxos), Filtati, Flevariani, Flevariotissa, Flogerotera, Flogoforos, Terribly, Formidable Protection (Mount Athos), Fodeliotissa (Fodele Heraklion), Storm (Skyros), Frangavilla (Amaliada), well life, sweepings (Skyros), Fronimada, Phylactery, Fysizoos, Fytokou (Magnesia), Light, light adyton, light soul, Luminary, Phosphorus, Bright, Photogenic, Fotodochos, Fotokyitor, Fotolampousa, Fotonymi.
X (93)
vale, Salutations, Chalkaliotissa (Blonde), Chalkeon (Thessalonica), Chalkoprateia, joy global, joy everything, Joy of Angels, ruler (Crete), Chardakiotissa (Kythrea), Comely, Chariessa, Grace, Gift of the Holy Trinity, Charitovlytis, Charitovryti, graceful (Kalymnos), Harmony, Death (Lipsi), Cheery, Chelidonou, cherub, Chiliarmenitissa or Chiliarmenos, Chiliasmeni, Chilionomatousa, Chozeviotissa or Hozoviotissa (Amorgos), sponsorship, dance graces, Chotasia, Chreolytis, good, Christoanthis root, Christomanna, Christoterpis, Christotokos, Christopher, Chrysalithini, Chrysalithiki, Chrysaliniotissa (Cyprus), Chrysavgi, Chrysafgiotissa, Chrysafitissa (Monemvasia), Chrysafiotissa (Sparta), Chrysiotissa, Chrisovalanto, Chrysovitza, Chrysovounotissa, Chrysogalatousa, Chrysogalousa, Chrysogeriotissa (Cyprus), Chrysogialiotissa, Chrysodafnitissa or Chrysodafniotissa (Athena), Chrysoeleousa, Chrysotheistria, Chrysokava, Chrysokamariotissa, Chrysokastriotissa (Plate), Chrysokellaria (rook), Chrysokephalos or Chrysokephalos (Sea), Chrysokonousiotissa, Chrysokouvoukliotissa, Chrysokoullouriotissa, Chrysolakona (Laconia), Chrysolanitissa (Cyprus), Chrysoleontissa (Aegina), Chrysoleousa, Chrysollogiatissa, Chrysomallitissa (Dimitsana), Chrysomallousa (Lesvos), Chrysomorfos, Chrysonegkomitissa, Chrysopantanassa, Chrysopaterinissa, Chrysopeplos, Chryssopigi (Kapandriti and Skyros), Chrysopodaritissas (Patras), Chrysopolitissa (Kon / town, Naxos and Cyprus), Chrysopyrgiotissa (Athena), Chrysoragiotissa, Chrysorogiatissa or Chrysorroitissa (Cyprus), Chrysoskalistria, Chrissoskalitissa (Chania), Chrysospilaiotissa, Chrysospiliotissa (Athens Kalavryta), Chrisocherias (Kalymnos) , Country Uncontainable, free village, Hosti (Crete).
Y (15)
Psalmatodochos, Psalmofilis, chanter, sprayed, Pserimiotissa or Pserimos (Kalymnos), Psefdomisis, tall (Kalymnos), Psiliani, Psichagnos, entertainer, Psychapodochos, Psychosostra (Thes / ki and Serbia), Psychosotria, Psychofelis.
Oh (13)
Ode, travails alocheftoi, Ocean, Okytati, ammonium, Time, nice gardener, comeliness, lovely, Oraisma Terpni, Oraismos, Oriopais, Useful.
Church of St. Mary of Blachernae "Odigitria"
The holy mary, the holiest of the faces of Orthodoxy, glorified not only in every corner of Greece, but as all around the world, with entreaties and prayers secret and arcane, confessions from the depths of the soul, once bold, content unspoken, that could not be directed to another person or a holy person, the person of the Virgin addressed with comfort and courage and has the Virgin Mary the power to solve the knots of the soul in prayer.
Grigorios Simakos – Theologian
Source: users.sch.gr
See also
The Greece celebrates the Assumption of the Virgin – The amazing our bond with the mother of Jesus

#DONE #DEKAPENTAFGOUSTOS #CELEBRATION #Assumption of the Virgin #FOLKLORE https://t.co/mcErEd7Hou pic.twitter.com/zOixe13T7N

- Mykonos ticker (@ mykonosticker1) August 15, 2020